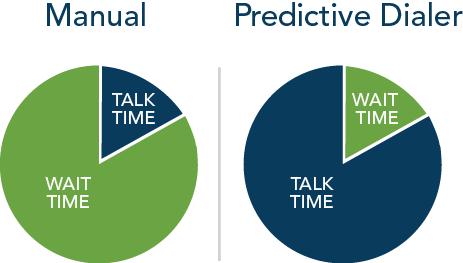 What is a Predictive Dialer
A predictive dialer is an automated dialer that places phone calls even before the agents become available. It's scheduled to increase agents' efficiency by calling as many leads as possible. The system quickly moves on to the next executive after an unanswered call.
Avyukta Intellicall predictive dialer software helps optimize your customer contact process. Discover how our predictive dialers can help your business maximize
Predictive is mainly used to contact a large volume of customers quickly. Predictive dialing frees agents from waiting during the dialing and ringing process. Agents spend their time answering calls and are not distressed with unanswered calls. Campaigns using predictive dialing average agent productivity of 50 minutes per hour and trouble ratios of 3% or less.
A campaign-based dialing system automatically initiates calls from a centralized machine to save time and boost productivity.

Built-in CRM with a default method for recording, call forwarding, API, language-based routing, and customization.
Real-time reports and dashboards to help call center managers and agents specify issues, take timely decisions, and execute reactive changes.

We have advanced technology that filters out deterrents like busy signals, unanswered calls, etc., resulting in more connected calls.
Main features of predictive dialer
Voice Files
A pre-recorded message file. In the GoAutoDial app, voice files are used for an automatic greeting during the first few seconds of the incoming call, the instructional message to leave a voice mail, or the message that automatically plays during a voice broadcasting campaign.
Direct Inward Dialing (DID)
This term means the telephone number of an organization. The GoAutoDial app needs a DID to be integrated into the app to allow the latter to receive and manage incoming calls.
Answering Machine Detection (AMD)
An internal system of the GoAutoDial app that detects answering machines (answering the call) so that the app can remove that from the automated call routing process, and all the agents and proxies get is live calls. For many telephony apps like GoAutoDial, the chances of the app determining an answering machine are about 81 percent.
Disposition
A short, one-phrase description of the most recent call conducted by an agent or rep. Instead of allowing the agent or proxy to use their own words to describe the call, the organization pre-defines it, and all the agent or broker has to do is select the best disposition to express the call.
Toll Free Number (TFN)
The acronym for Toll-Free Number. These numbers allow the caller to call the organization for free within a particular country without incurring domestic long-distance charges or toll charges. However, not all types of telephone services are free.
Manual Dial
A dialing method to which a person manually encodes the telephone number of the lead they want to call.